For all musical theatre enquiries in Australia regarding Greta's work, please contact:
Anthony Blair
P |+ 61 2 9319 7199 
M |+ 61 411 626 814 
E  | a.blair@cameronsmanagement.com.au 
W  | www.cameronsmanagement.com.au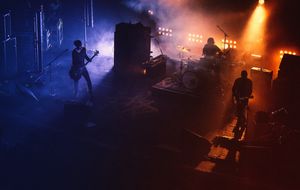 About//Contact
Greta is a composer, lyricist, performer, and producer who writes songs that have been descibed as "hoped-for revelations that all too infrequently emerge from the never-ending pile of new releases." - Vin Scelsa, WFUV, with a "peculiar and exciting alchemy of accessible but avante-garde pop." - Elizabeth Nelson, NPR.  
A 2020 Jonathan Larson Grant Finalist and upcoming resident at Yaddo, as well as recipient of City of Sydney Cultural Award and Create NSW grants to develop a new musical with playwright Hilary Bell.   
Greta has worked on many creative projects in the USA, Australia, and Europe.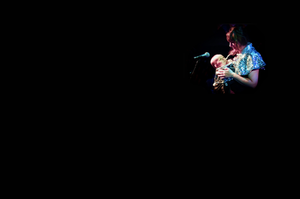 Greta leads a band called The Universal Thump with her husband, drummer-producer, Adam D Gold. In 2012, they released an 'epic art-rock' double eponymous album inspired mostly by a whale-less whale-watching expedition and a little by Melville's Moby Dick. Stew (Passing Strange, The Negro Problem) writes: "'Grasshoppers' is one extended outbreak of goose-pimples after another. Were it a drug I'd be shooting it." The Universal Thump's follow-up EP 'Walking the Cat', recorded at famed Abbey Road Studios, was released in 2015 after a successful Kickstarter campaign and European tour.     
Greta has twice been featured on NPR's 'Song of the Day'. In her native land, she was awarded an Australia Council for the Arts Grant to tour in support of her concept album, "Edible Restaurant". She is also a multi-platinum-selling, ARIA Award winning songwriter for other artists, having co-penned the hits, 'Blow Up the Pokies'  and 'Charlie #3' (performed by rock band The Whitlams). Her songs have been performed at the Sydney Opera House by The Whitlams and the Sydney Symphony Orchestra, and featured in the score of musical Truth, Beauty and a Picture of You (Hayes Theatre Co, Sydney 2014).     
In 2019, Greta composed music for and musically directed a musical adaptation of Shaun Tan's The Red Tree at the Sydney Opera House and Arts Centre Melbourne, originally commissioned and produced by the National Theatre of Parramatta, Australia with collaborator, playwright Hilary Bell. Greta and Hilary were also recently awarded a City of Sydney Cultural Grant to develop the children's book Alphabetical Sydney (by Hilary Bell and Antonia Pesenti) for the stage. 2019 also saw the first NYC production (in concert mode) of Greta's musical Triplight for which she wrote music/lyrics and collaborator, playwright Alexandra Collier (book/lyrics) were awarded residencies at UCROSS Foundation (Wyoming), Rhinebeck Writers Retreat and SPACE at Ryder Farm in 2012-2013, and workshops/ readings at The Tank (2017) and New Georges (2014).   
In 2015 she was granted a residence at The Orchard with Stew, to develop their musical / song cycle Anna Hit. She was accepted as a composer in Ars Nova's Uncharted Program 2015-16, to work on musical The Real Whisper with playwright Akin Salawu. The Real Whisper was subsequently featured in the Polyphone Festival in Philadelphia in 2017. In 2014, Greta was accepted as a composer into the BMI Lehman Engel Musical Theatre Workshop in NYC. Greta also participated in the Public Theater's first composer/playwright meet-up. Subsequently, Greta began working on The Real Whisper with playwright Akin Salawu. Twelve of Greta's songs are also featured in Jack Feldstein's cabaret-musical Une Parisienne in New York, in development at Dixon Place and Workshop Theater Company, NYC.    
Greta has also composed and produced music for numerous films, TV shows and ads, such as short films Teeth (2019) and 'US: A Family Album' (2012), which was selected for the San Francisco International Film Festival, NY Shorts Festival, Coney Island Film Festival and Seoul Film Festival. Greta recently directed the music video for Brooklyn-based singer-songwriter Alice Bierhorst's song Not Like the Movies and also produced her orchestral pop album 'The Beacon' with Adam D Gold.    
She and Adam (The Universal Thump) produced and performed as house band for The Seder-Songwriter Project at Joe's Pub, NYC (2014 & 2015) and George Harrison's 'All Things Must Pass' 40th Anniversary Benefit Concert at The Bell House, Brooklyn (2010).   
Please contact info@gretagertlergold.com for more information or fill out the form below.
Watch Greta's composer reel: