Greta Gertler Gold is a composer-lyricist and performer, and a dual citizen who splits her time between NYC and Australia. Her current projects include a musical adaptation of Joan Lindsay's 'Picnic at Hanging Rock' with Hilary Bell, an original musical with TONY Award-winning artist, Stew ('Passing Strange'), a children's musical based on Bell/ Pesenti's best-selling picture book 'Alphabetical Sydney' (Critical Stages), 'Triplight' a rock musical with Melbourne playwright/ author Ally Collier, the songs and score for a variety of Dr. Suess Toniebox characters and a musical adaptation of Shaun Tan's 'The Red Tree'. She co-wrote the songs "Charlie #3" and "Blow Up the Pokies" with Tim Freedman (The Whitlams). Gretagertlergold.com 
"Trapped Inside a Song" 
September 2022 
Tonight I am putting my 6 year old daughter and 3 year old son to bed in their hand-me-down bunk beds in Brooklyn. Simultaneously and dissonantly, they call out "Mamaa...." My daughter comes up with a solution: "Mama, can you clone yourself and give the real you to me, and give the clone to (her little brother)?"  
My right arm is stretched up to the top bunk to hold my daughter's hand, whilst my left boob is splayed out on the mattress, being snuggled by my son. (He no longer breastfeeds but he still requests to "look at your boobie?" to get to sleep each night.) It takes just twenty minutes or so for them to fall asleep, breathing in stereo. 
As a good friend and musical collaborator of mine recently pointed out, "Life itself is music." We draw from life in our musical work. My husband and I collaborate on many musical projects such as our band, The Universal Thump. Music brought us together. Music forged our way together. Music can make humans.    
I am not credited for pulling off a relocation from Sydney to NYC this year for our family of two creative freelancers with two small children, nor do I expect to be. There are no reviews in the New York Times about how flexible my 51 year old right arm was as it reached the top bunk tonight. Nor royalties for each boobie snuggle. No bling-filled awards ceremonies for finding an affordable apartment back in the current NYC rental market, nor prizes for figuring out how to get a picky six year old to try a green smoothie. These moments are just the triumphant, beautiful, resonant, humdrum chords of life. 
Long before I was a parent, or a wife or moved to NYC, I secretly devoted my life to writing music. At the age of 14, I knew I might one day write hit songs. But I didn't tell anyone for fear of seeming arrogant. I wanted to fit in. I wanted to be liked. (In the end, I was most often criticized anyway - for my lack of confidence.) "Stand up straight", "Little girls should be seen and not heard", "A small sliver of cake for you, Greta?" But I started winning music scholarships and awards. On paper, it was evident that I had talent. I felt it deep within myself but couldn't quite bring it to the surface.  
I was also superstitious. I didn't yet know the term "Kina Hora" (fear of others' envy or fear of  the evil eye) but it was omnipresent in my life and community. The "tall poppy syndrome" culture of Australia (don't grow too high in your field, or shine too brightly or you'll get cut down by everyone else) was also not conducive to my expressing myself at all. And there were no role models in my life for women choosing to have a career vs family, let alone a career in a creative field. There were also barely any role models of any gender for creating original, piano-based pop music in Australia.  
In high school, my dream was to be a contemporary classical composer. In recent years I've discovered that when I was 17 years old I was invited to study music at a prestigious college in London following high school. But that invitation was kept a secret from me. The following year, I started studying law. I was not a stellar student, never having had the remotest sliver of passion for torts. 
But it was the early 1990s, and I went out to see a lot of live music. I found huge inspiration in the melodic bands and singer-songwriters of the 1990s that I was hearing: Robyne Dunn, David Bridie's My Friend the Chocolate Cake, The Clouds, Chris Abrahams and Melanie Oxley, Stephen Cummings, Died Pretty and The Whitlams. And also internationally, Tori Amos (who I saw play in 1991 at the Three Weeds, and who autographed my 'Winter' EP), Ben Folds Five (saw them at Sydney Uni), Depeche Mode (their 'Best of' tape got stuck in my car cassette player for around 2 years, so it was all I listened to) and others.  
I dreamed of writing songs for other singers with powerful voices. I took a feminist legal theory class with a Canadian professor named Shelley Wright, who granted us the space and time to explore our own voices. It changed my life profoundly. I wrote three songs for the assessment, and asked a friend to sing them for the class. At the end of the performance, the other students were in tears. I realized the song and its performance had affected them. Having sat silently (too intimidated to participate in discussions about law) throughout most of the classes til that point, Shelley remarked: "Greta - it's wonderful to finally hear your 'voice' in the songs."  
Singing my songs myself felt too quiet and powerless at the time, but I loved singing backing vocals. I felt awkward about putting myself in the spotlight. Or perhaps it was just the performance anxiety that had developed after years of studying to be a classical concert pianist, a rigorous and difficult journey for which I was not cut out.  
By the mid-90s I was finishing up the law degree and working part-time as an admin assistant for a liquidator on the 66th Floor of the MLC Building in the CBD. My boss thought it was hilarious to whistle the German national anthem at me quietly every time he passed my desk, as he knew I was Jewish. He didn't know (or perhaps he did) that approximately 25 years before I was born, my maternal grandparents were in Auschwitz and Theresienstadt. They survived.  
I didn't really know what to do, or how to speak up. I turned to writing my own anthems. I finished the degree.  
In 1995, I wrote a song with Tim Freedman's voice in mind. I had occasionally seen him in the elevator at law school, where he was a couple of years ahead of me. The song was called 'Man of the Moment' and I wanted him to sing it. I was living in a flat in Bondi with my brilliant friend Abby Mellick, whom I'd met a few years earlier when we both worked as sales assistants at the record store Brashs in Bondi Junction. 
I thought Tim Freedman had a direct, simple, unpretentious voice and it reached me at the time. I looked up to him. I would go see The Whitlams play in small venues, when only 3 or 4 people were in the audience and I'd never before seen a piano-led, original rock band in a small music venue. I had barely even heard live, amplified music, being the classical music nerd that I was. 
Once I remember they played at The Landsdowne Hotel and the legendary Louis Burdett was on drums. He rolled a piece of paper into a cylinder, stuck it in his bum, lit it and raced around the room like a firecracker. The songs were funny, dark, sad, political and catchy. I loved the band so much.  
'Man of the Moment' came from a place of yearning and confusion about identity. Also, it was also an ode to the beauty of old friendships. While I lived in Bondi, I collected melodies, chords, lyrics and sat at a crappy, upright piano and wrote the song quickly. And then recorded it on my Yamaha 4-track (with reverb on my voice provided by my bathroom).  
This is the man of the moment 
And these are the clothes that I wear 
And I'm trying to get thin on love 
I'm trying to care 
See him offering himself to the world 
Staring down from the 66th Floor 
He's happy it's the weekend again 
We go out 
Cos we go back and back and back ...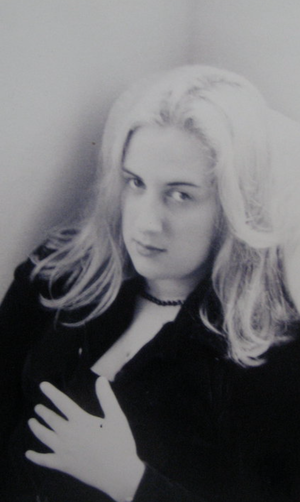 25 years old, in the home in Bondi where I wrote "Charlie # 3". Photo by Abby Mellick.
I asked Tim if I could give him the demo tape. I was thrilled when he accepted it. Soon after, I read in the news that the co-leader of The Whitlams, Stevie Plunder, had jumped off a cliff in the Blue Mountains and killed himself. It was a massive shock. The music community of Sydney was completely devastated. I didn't know Stevie personally, and I barely knew Tim Freedman, but I felt that Stevie's presence onstage was always warm, energetic, folky, uplifting and the perfect counter to Tim's darker stage persona. I attended his memorial service in Newtown, and could feel the collective grief and shock.  
Maybe a few months passed, and Tim must have listened to my demo tape. He asked if he could adapt the song, lyrically, to make it about Stevie. I said "of course". I visited his house to write with him and he shared some lyric ideas.. I liked them a lot.  And it became the song 'Charlie #3'. I drove to Newcastle with an ex-boyfriend and we stayed in a hotel where there was a studio. And I recorded the backing vocals on the album.  
'Eternal Nightcap' was released in 1997, becoming the best-selling independent rock album of all time in Australia. This helped The Whitlams gain a major commercial record deal with Warner Music for their following album, 'Love This City'. The band performed "Charlie #3" live on national television (Recovery) and I sat at home and watched, utterly thrilled.  
Around this time, I had formed my dream band Peccadillo (a fusion of classical and pop instruments) and was singing lead vocals, trying very hard to gain attention for the band. My earliest live performances were with that band, as the opening act for The Whitlams. We toured the East Coast of Australia with them once and I treasured each show. I played a song called 'Dwell' as part of our set and Tim always said he liked the chorus of that song. It was one of the songs I'd written for the legal feminist theory class. (The chorus began: "and I wish I wish I knew the right words, to make you feel better...")  
This month the band is celebrating the 25th Anniversary of the release of 'Eternal Nightcap' with a tour of large music venues throughout Australia. Yesterday, I decided to take a moment to listen to "Charlie #3" again after a very long time. I won't be included in the tour, nor was I asked to be involved in the celebration of this iconic album. 
A 25 year old, bottle-blonde me is trapped inside the recording forever, quietly singing layers of harmonies and feeling a LOT of feelings while Tim Freedman and his band The Whitlams crash, bash, boom and flail around. I'm pretty quiet but you can hear me. I think it's time for a remix. 
Music has been my primary spiritual and emotional outlet in life. I've always felt that music is unconditionally, unquestionably a positive force in the world. I don't think of music as a language - I think of language as a music. I feel alive and strong when I am writing songs. My hands make shapes borne out of many hours of practicing rudiments and classical pieces, and there is a well of melodies in my head, which have always calmed me. There is music around us all the time, invisible but there. Whenever my songs have connected with other people, I have felt nurturing of the world. And I have felt like there was a place for me in it.  
Recently, this striking Youtube video came to my attention via social media. Initially, many of the people involved in this performance had been credited, including the guitarist, musical director, Tim Freedman (as performer), and it was posted as "one of the greatest songs ever". But the songwriters weren't credited. Thousands of strangers were singing my song. I wrote to the organization, expressing how thrilled I was to see this amazing performance, and asking that Tim and I be credited as the songwriters. They addressed this omission immediately, were extremely apologetic, and added the songwriting credits to the video.  
Soon after someone from The Whitlams' management team contacted me, reprimanding me. Apparently, the addition of my name to the video had messed up the algorithms and was threatening to deplete the impact of their social media campaign. "It's about the PERFORMANCE, Greta, not the song",  "We can't credit you as a co-writer because then the post would be too long", "If we credit you, then we'll have to credit ALL of Tim's co-writers on all the posts" and other stuff I can't bear repeating. To be clear: I'm the primary songwriter of "Charlie #3" and "Blow Up the Pokies". I wrote all of the music and Tim and I shared lyric-writing. 
After so many years, it's not about sitting on the side, quietly collecting the royalties (although every bit helps!) or knowing my own heart that it's my song reaching the world. It's about recognition. And more recognition for female songwriters and composers, generally. I continue on in a very male-dominated industry, when statistically people of my gender-plus-age combo generally aren't granted much attention. Let alone as mothers of small children and during a pandemic. 
There is a familiar cacophony of voices that pop into my head when I voice all these types of thoughts. ("No one likes a whiner." "This is such a privileged rant. So many people are worse off than you", "Just be quiet. No one likes an angry woman", "You just aren't good enough" "Not pretty enough", "Not enouuuuuuuugh" (insert long reverb and delay here, with added strings).  
Members of the music business need to understand and celebrate the fact that the creation of a successful album takes a huge, team effort. It is not just the "performance" or the "performer" who deserve acknowledgment for their work. And they certainly should not be silenced. It is time to put to rest the music business trope of the "genius performer" at the center of it all.  It trickles down to erode the lives of others who put so much of their lives into this collective work. And there need to be more women and non-binary people running the music business. More people who understand how it feels to be stretched from left boobie to right middle finger.    
I am lucky and grateful to have the love and support of my husband and creative partner, my collaborators and artist friends all over the world - all of whom understand the path and predicaments of being an independent singer-songwriter in the music biz these days.  
The world of musical theater has recently offered me more chances to write music, and I'm excited to explore my compositional voice and to contribute to a vast array of projects. There are clear practices in place for crediting all collaborators on these projects, and the theatre world (although I'm not pretending it's perfect) generally strives to be as inclusive as possible. I'm also thankful to have recently secured a theatrical agent, which makes a world of difference in navigating contracts, and allowing me to focus on and find more work, which is all I want.  
I credit Tim Freedman for being a great, charismatic performer who has worked hard for many years to build the audience he has. I will always cherish the live music of Australia in the '90s and how much it inspired me. I'm not diminishing the importance of performers. But it takes a village.  
As the majority songwriter of "Charlie #3", if it is only the performance and not the song itself that is celebrated, I am rendered invisible. How might I be able to feel like I am still a part of this anniversary, this album, this song? It reached a lot of people. It meant a lot to me. It is just a 4 minute pop song, but I put a part of my life and my being into it.  What rewards am I entitled to want or expect?  
It seems perhaps my contributions of music, lyrics and backing vocals to 'Eternal Nightcap' will be eternally ignored by The Whitlams, their fans and the music business. I won't be included in these celebrations. And, honestly, it hurts. The music business is difficult and it can sometimes even kill. We don't always come back (and back and back and back).  But I'm still immensely proud of this song.  
Music by Greta Gertler Gold. Words by Tim Freedman and Greta Gertler Gold.  
He'll need some time to get over this 
But a moment is all he can spare 
His buddies out there in the city lights 
And he is trying to care 
See him offering himself to the world 
Staring down from the fifty-sixth floor 
I'd be happy just to catch him again 
We go out  
We don't always come back 
The night pressing in on his weary mind 
There's a half-eaten moon in the sky 
Nothing is calling him back to bed 
And no-one is saying goodbye 
See him offering himself to the world 
Staring down from the fifty-sixth floor 
Yeah, I'd be happy just to catch him again 
We go out because we go back 
And back and back. 
Meanwhile in Brooklyn, my six year old daughter has been attending a full-time theater camp in Prospect Park for the past three weeks. I've been in awe of her as she navigates a new country, new home, meeting and interacting only with a brand new group of people most days. She's been part of three huge, group performances of all the kids and teaching artists at the camp so far,  including a musical adaptation of 'Romeo and Juliet', a puppet show called 'Summit of Endangered Species' and a jukebox musical of songs by Women in Rock. 
Back home, she recruits her little brother for an original, musical shadow-puppet performance in the living room of our new rental apartment. When it finishes, she instructs her little brother: "First you take a bow. Then I take a bow. Then we point to the band and other people who worked on the show, and they take a bow. Then we all bow together." We applaud wildly.